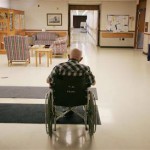 Gardiner Koch Weisberg & Wrona is a dynamic law firm, uniquely qualified to represent the families of nursing home residents who have sustained injuries or died as a result of the errors of nursing homes or their staffs.

We believe that a society is judged based upon how it treats its weakest citizens. To that end, we have obtained results for Alzheimer's patients, terminal cancer patients, paraplegics, brain injured persons, the very old, and the infirm. If you believe that someone you care about has been injured as a result of the actions of a nursing or it's staff, feel free to

Selected Case Summaries: Nursing Home Litigation

-Wrongful death settlement for failure to discover and treat sever decubitus ulcers.

-Settlement for paraplegic nursing home resident who was injured because of the nursing home's negligence in transferring the resident from her chair to a bed.

-Settlement for wrongful death case for nursing home resident suffering from Stage 4 Cancer and Alzheimer's who was not properly restrained or monitored.

Check our Gardiner Koch Weisberg & Wrona blog to view recent settlements and case summaries.