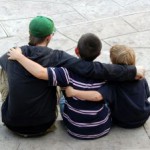 Gardiner Koch Weisberg & Wrona has extensive experience in Family Law. Six lawyers serve to represent family law clients,   Tom Gardiner, Jim Koch, Lynn Weisberg, Jennifer Airato, Michelle LaGrotta and Haley Schneider. Three of our lawyers are certified in collaborative divorce. The head of the Family Law Department, Lynn Weisberg, is also on a court-approved list of child's representatives and is frequently appointed by judges to represent the interests of children in cases involving contentious custody and visitation litigation. Recognizing that family law clients often are at their most vulnerable, the firm offers a caring environment while protecting our clients' financial stability and the best interests of the children. The firm's family law lawyers also attempt to minimize expensive and unnecessary litigation by encouraging parties to communicate and make the personal decisions that should be made by parents, and not an impartial judge who is not familiar with the intricacies of the family's relationships. When this fails, however, the firm is prepared to litigate to protect our clients' positions and we have prevailed in ensuring that our clients have the financial support necessary to create their new lives.

We represent both men and women, with the goal of protecting parents' relationships with their children and providing financial security for our clients. We recognize that traditional custody arrangements are not always appropriate and that parenting agreements, much like parenting, necessitate creativity and flexibility. We also represent clients with a full range of personal assets. Our clients are multi-millionaire business owners, salaried employees, stay-at-home parents, and hourly wage earners.

Our family law lawyers work with highly competent real estate appraisers and brokers, actuaries, financial planners, psychiatrists and psychologists, and mediators in order to meet the needs of our clients, both in and out of the courtroom.

In order to fulfill the terms of a divorce judgment or to protect assets after a divorce, the Family Law Department also works with clients to draft or revise estate plans and represents them in the purchase and/or sale of real estate.