ASSOCIATE
rgleason@gkwwlaw.com
Biography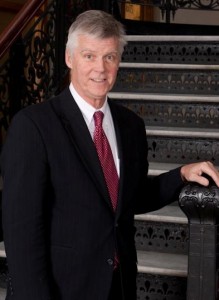 Dick joined GKWW in October of 2012, as a senior associate. He has over 25 years experience in the field of personal injury and has concentrated his time, efforts and litigation skills representing injured persons, workers, their spouses and families in the Chicago area and throughout Illinois. He was born and raised in the Chicago area. He graduated from DePaul College of Law with Honors in 1985, while employed full time as a union worker. He was admitted to the Illinois Bar that same year.
Dick has successfully represented clients at the trial level in Cook, DuPage, Lake, and Will Counties. He has prosecuted appeals on behalf of his clients before the Illinois Appellate Court for both the First and Second Districts, and he has argued successfully before the Illinois Supreme Court.
Dick has been married for 34 years and is the proud father of four grown children.
Career Highlights
Notable accomplishments on behalf of clients:
Sports and Recreational Injuries
$3,000,000 settlement: co-counsel on behalf of a 13 year old girl who sustained catastrophic injuries during a swim team practice in the western suburbs.
$450,000 settlement: lead counsel on behalf of a 24 year old husband and father who sustained severe injuries at a poorly maintained ice skating rink.
Construction/Workplace
$887,552 verdict: trial counsel on behalf of a union plumber severely injured on the job as a result of a building owner's use of a toxic drain cleaner which caused severe and permanent injuries from chemical burns.
$372,000 settlement: trial counsel for a worker earning only $12/hr. in a worker's compensation claim for injuries at a residential development. The employer initially denied all benefits before Mr. Gleason's representation commenced. The employer eventually paid medical bills in excess of $200,000, temporary disability payments of $66,000, and future disability compensation of $125,000.
$195,000 settlement:  trial counsel for a union laborer in a workers' compensation claim who sustained soft tissue injuries to his lower back, requiring extensive rehabilitation and thousands of dollars in additional compensation for medical bills and lost time.
Defective Premises Liability/ Buildings/ Sidewalks
$425,000 settlement: lead counsel for a retired union fork lift operator who fell on black ice caused by a defective gutter system at a condominium complex.
$350,000 settlement: lead counsel for a young mother who fell at a major department store in the Chicago area, and who subsequently developed complex regional pain syndrome (CRPS), a severe and debilitating injury to the peripheral nervous system. The store's initial settlement offer before Mr. Gleason's representation commenced was only $10,000.
$160,000 verdict: trial counsel for a union electrician who fell on ice on the front steps outside his apartment building while carrying his baby daughter. He sustained fractures to his leg and ankle. The building owner's insurance company's settlement offer before trial was only $15,000.
Transportation Liability- Automobile and Truck
$580,000 settlement: trial counsel for the estate of a husband and wife, injured in a car accident, whose initial injuries consisted of a fractured leg and cracked ribs.
$314,000 verdict: trial counsel for a 39 year old mother of three, who sustained soft tissue injuries in an out of state accident caused by the semi tractor driver for a national interstate trucking corporation.
$89,991 verdict: trial counsel for a 20-year-old female passenger, injured in an intersection collision and whose medical bills were less than $1,500.
Honors
Dick is a member of the Illinois Trial Lawyers Association and the Illinois State Bar Association where he serves on its Judicial Evaluations Committee.