PARTNER
JKoch@gkwwlaw.com
Biography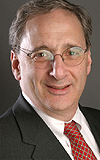 James B. Koch has been a trial and appellate attorney for 33 years. He has argued two cases before the United States Supreme Court, and he briefed a third one. He has successfully tried hundreds of trials in state and federal court, as well as before the Securities and Exchange Commission ("SEC"), Commodities Futures and Trading Commission ("CFTC"), National Futures Association ("NFA") and Financial IN Regulatory Association ("FINRA"). His clients consist of individuals; institutional and individual investors; owners, upper management and employees of securities firms and brokerages. In addition to representing his clients in front of these regulatory organizations, Mr. Koch also counsels them on compliance policies and related issues, statutory interpretation of regulatory issues, including fraud and racketeering. Prior to co-founding Gardiner Koch Weisberg & Wrona in 1992, Mr. Koch spent five years as a Cook County prosecutor and worked as a staff attorney for the NFA. Mr. Koch earned an undergraduate degree from Loyola University; a law degree from IIT-Chicago-Kent College of Law; and a Master's Degree in Education from Northwestern University.
Mr. Koch is a member of the Elite Lawyers of America, a legal organization limited to attorneys who have been trained as prosecutors and trial lawyers; tried more than 100 bench and 25 jury trials; argued more than 25 cases in the appellate court; argued before the United States Supreme Court; have practiced law at least 25 years; and have successfully tried more than 100 arbitrations and reparations.
Mr. Koch brings to his clients the ability to attach issues and solve problems, whether through settlement or litigation. His practical approach, years of experience and extensive trial experience makes him one of the most successful and well-respected securities attorneys in the country.
Mr. Koch is an adjunct trial advocacy professor at Northwestern University School of Law. He has taught part-time at the Northwestern University Graduate School of Education and Social Policy, as well as The Latin School. He served as President of the New Trier School Board in Winnetka, Illinois for three of the ten years that he sat on the board. Mr. Koch also served on the Executive Committee and Board of Governors of the North Suburban Special Education District from 2003-2011.
Career Highlights
Accomplishments on behalf of clients:
Successfully defended over $500 million in claims in state and federal courts and in arbitrations throughout the country relating to commodities, fraud, securities, and various churning and unsuitability claims
Over 50 appellate arguments throughout the United States, including cases in the Second, Fifth, Seventh, Ninth and Eleventh Federal Appellate Circuits
Recently obtained a permanent injunction and $652,000 judgment in the Southern District of New York for an international securities firm in a case of first-impression brought under the Computer Fraud and Abuse Act
Cases before the United States Supreme Court:
Argued the case of Illinois v. Wardlow, regarding the scope of the Fourth Amendment in police investigations
Argued the case of FSLIC v. Ticktin, regarding the federal jurisdiction of FSLIC matters
Leader
New Trier School Board, Winnetka, IL, 2003 – 2011; President-2005-06;2008-09;
2009-10
Executive Committee and Board of Governors, North Suburban Special Education District, 2003 – 2011 (President 2008 – 09)
Teacher
Adjunct Professor, Northwestern University School of Law
Northwestern University Graduate School of Education and Social Policy