Our People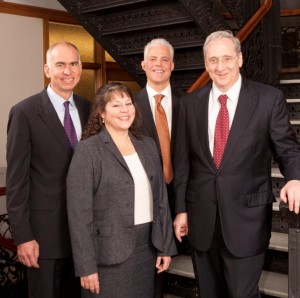 (From left to right: Tom Gardiner, Lynn Weisberg, John Wrona, and James Koch)
The firm was established in 1992, and is headed by Thomas Gardiner, James Koch, Lynn Weisberg, and John Wrona. While the partners have overlapping legal skills, they also have separate areas of special expertise. Tom is a skilled litigator with extensive experience in personal injury, medical malpractice, wrongful death and products liability claims, as well as employment law and business litigation. Jim focuses largely on securities and commodities law, contracts, professional liability, and civil and criminal litigation. He has argued two cases before the U.S. Supreme Court and briefed a third case. Lynn has almost 20 years of experience in divorce, custody, spousal support and visitation rights matters, she is frequently appointed by judges to represent the interest of children in contentious custody and visitation litigation. John focuses on wrongful death and catastrophic injury cases and has achieved many substantial results for our clients. Jennifer teams with Lynn in our growing family law department.
GKWW added Susan Rogers and the Law Offices of Rogers and Associates, LLC in 2011. Susan brings sophisticated estate planning, probate administration, guardianship, and trust administration to our firm. The DuPage Office should serve Susan's and our DuPage clients well. With the addition of the DuPage Office, GKWW firm now has 22 attorneys with a great breadth of expertise.
We're highly experienced, we're efficient, we're ethical – we get things done. We are proud of the results we've achieved for our clients. We invite you to browse our website for additional details about who we are and what we've accomplished. Then call us for a consultation to see how we might be of service to you.

Success in Municipal Flooding Lawsuit
Illinois Farmers Insurance Company has filed several class action lawsuits against dozens of Chicago-area municipalities alleging that these municipalities each failed to provide safe storm sewer systems and conduct adequate storm water mitigation. Farmers Insurance alleges that these failures caused widespread sewer water invasions into the homes of individuals insured by Farmers on April 17-18, 2013.
Farmers has filed these suits in Cook, Lake, Will, DuPage, Kendall, Kane, LaSalle and DeKalb counties. The lawsuits further allege that the "common, central and fundamental issue in this action is whether the [municipalities] have failed to safely operate retention basins, detention basins, tributary enclosed sewers and tributary open sewers/drains for the purpose of safely conveying stormwater."
The suits were filed by Stuart Brody of Sneckenberg, Thompson & Brody.
If successful, these suits could require municipalities to pay significant damages to Illinois Farmers Insurance Company, and possibly other insurance companies if the suits proceed as class actions. The claims in the lawsuits brought by Farmers Insurance are similar to those filed by Sneckenberg Thompson & Brody on behalf of Chicago-area residents against various municipalities after a record rainfall hit the area in April 2006.
Tom Gardiner and Barry Owen of Gardiner Koch Weisberg & Wrona defended one of the 2006 lawsuits and were successful in securing summary judgment on behalf of its municipal client.
To contact Tom or Barry about these lawsuits, please call 312-362-0000.